Important Notice Before You Register
Near the end of the registration process you will be asked if you want to Opt in to receive email from Ben's.
We strongly recommend that Ben's Friends Rewards members consent to receive periodic emails from Ben's. You may still earn points and get rewards without receiving emails, but you will not be able to take full advantage of all Ben's Friends Rewards features.
By allowing Ben's to send you periodic emails, you will be able to: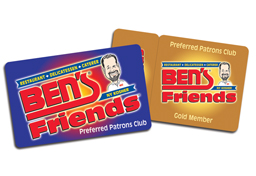 Receive our emailed Birthday Gift
(You MUST opt in to receive Ben's Birthday Reward!)
Sign up for our enrollment Anniversary Gift
Be notified when you earn a special reward
Get notice before your rewards expire, so that you can use them
Receive special email-only offers to earn bonus points and rewards more quickly
Be invited to members only luncheons and dinners
Get advance notification of holiday menus, seasonal promotions & events
Ben's will NOT share your email address with anyone else. Read our Privacy, Security and Refund Policies here. You can opt out at any time.
---
You may also join the program by downloading the "Ben's Friends Rewards" app to your Apple or Android smartphone. If you are viewing this page on a smartphone, you can download the app at these links: