Ben's Bayside Welcomes Tour Groups
Bens Kosher Delicatessen Restaurant & Caterers, family owned & operated since 1972. Ben's Bayside location is in the Bay Terrace Shopping Center close to Queens attractions:
• Citi Field
• Queens Museum
• Fort Totten
• NY Worlds Fair Site – Flushing Meadows/Corona Park
• Colden Center at Queens College
• Resorts World Casino NYC
• Museum of the Moving Image
Queen's has history, culture, views and food without the crowds or prices of Manhattan.
Ben's features a wide variety of foods and can work within virtually any budget.
Choose from overstuffed sandwiches or lighter selections from an extensive menu of homemade soups, crisp garden salads, wraps, freshly-prepared entrees and old-world eastern European specialties. This is authentic NY deli at its best where virtually everything is prepared from scratch.
Our stunning dining room is colorful, comfortable and spacious.
There is a delicatessen takeout counter. The entire restaurant is available before 11 am for breakfast or brunch, and after 9 pm for late night parties. We can accommodate up to 150 guests in our dining room and our Private Party room is available for groups of 20-80.
Let our expert staff tailor the perfect menu for your group.
Moderately priced luncheon menus include homemade soup or house salad, an overstuffed sandwich, side dish, plus unlimited homemade cole slaw, pickles and a bottomless beverage – coffee, tea or fountain soda. Pre-theater dinners start at under $25.
Planning a bus trip? Ask about Ben's Boxed Meals for groups of 10 or more.
For more information, please call Oscar Molina at (718) 229-2367 or click here to email him.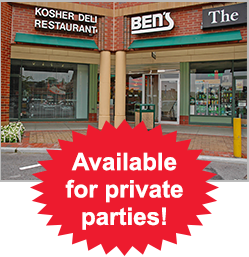 Large Groups are Accommodated in All Ben's Locations throughout Queens, Long Island and Boca Raton, FL!