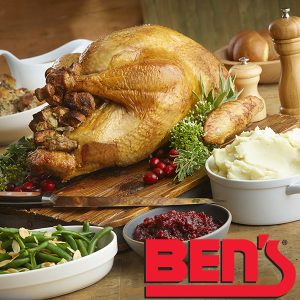 Fall is here and that means crisp air, pumpkin spiced lattes and Ben's Kosher Delicatessen Restaurant & Caterers Thanksgiving Feast special. Thanksgiving is all about spending time with loved ones, Â so don't get caught up preparing, cooking and cleaning for guests. Let Ben's cater your Thanksgiving dinner, or better yet, visit any of Ben's seven dining room locations for a casual and comfortable turkey celebration.
With the company's "Dine Out at Ben's" option, patrons can completely relax and let Ben's provide the ultimate "holiday without the headache" experience. On Thanksgiving Day, Thursday, November 24, seatings are available for 1:00, 2:30, 5:00 and 7:15 p.m. in all locations (7:15 p.m. seating not available in Manhattan). Thanksgiving Day patrons will be treated to Ben's delicious "Roast Turkey Dinner," a prix fixe ($24.99) meal complete with stuffing and gravy and a choice of two sides; as well as bottomless soft drinks and a choice of house-made soup. A prix fixe ($9.99) "Children's Turkey Feast," which includes turkey, stuffing, a choice of two sides, dessert and fountain beverage is available for children age 12 and under. Large parties are welcome, though reservations are encouraged to guarantee seating.
For those hoping to host the party but prefer not to cook, there is also "Ben's Thanksgiving Feast" catering option (for a price of $229.90) which includes one whole roasted turkey (15-pound average), Ben's homemade stuffing and gravy, and a choice of two select sides. All feasts also include one quart each of cranberry-pineapple compote and fresh-cut cole slaw, along with an assorted relish tray.
As a bonus, all Ben's Friends Rewards members who order a catered feast by Sunday, November 19, Â will receive two bonus BUY-1-GET-1-FREE meal coupons ($40+ value).
"Thanksgiving is all about spending time with the people you love and eating as much turkey as your stomach can handle," says Ben's Owner and Founder, Ronnie Dragoon. "It's not about worrying if the potatoes are ready, but instead whether your loved ones are fed. So, we want everyone to sit back, enjoy some wine and the game, and let us take care of the rest."
For those simply looking to complement their Thanksgiving Feast, whether it's all from Ben's or primarily crafted at home or are hoping to bring a dish as a guest, Ben's also offers a variety of appetizers, sides, and desserts. Phone-in orders are welcome and Ben's takeout counter is open all day on Thanksgiving for any last-minute needs, be it a quart of gravy or an extra tray of stuffing, among other items.