Breakfast in bed has always been a Mother's Day tradition. However, this still requires cooking and cleaning, plus who wants to get crumbs on their sheets? This year, switch it up and take Mom out for a delicious Mother's Day brunch to show her how much she means to you.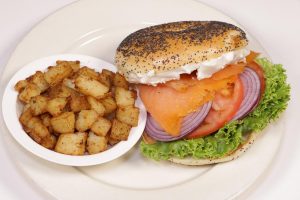 New for 2018, Ben's Kosher Delicatessen Restaurant & Caterers is introducing its Mother's Day Sunday "Brunch Menu. For just $19.99 a meal, guests can choose from meals such as Challah Bread French Toast, a traditional Jewish breakfast meal, Nova Scotia Smoked Salmon, served on a toasted bagel with all the fixings, Steak and Eggs and more! All menu items are accompanied by one Potato Pancake with Apple Sauce, Home Fries or French Fries and a choice of Muffins, Rye Bread or Whole Wheat Bread. Lastly, all brunch items come with either bottomless coffee, tea or fountain soda.
In addition to brand new food items, Ben's Brunch Menu also offers Mimosas, Wine and Virgin Mary's for just $4.99 per glass, with the purchase of any brunch item. Bloody Mary's will be available at the Manhattan and Scarsdale locations only.
For those looking to avoid the crowds and celebrate in the comforts of home, Ben's is also offering a variety of delicious catering options, including, but not limited to, a "Party Platter Plus for 10" for only $169.99 and a "Housewarming Buffet for 20" for $399.80. Phone orders are welcome, and delivery is available.
If Ben's is Mom's favorite place to nosh, a Ben's Gift Card or eGift Card is, quite possibly, the perfect gift! Our physical gift cards can be purchased online or in stores, and our eGift cards are ideal for quick delivery via email.
The new Brunch Menu will be available at all seven locations from 11 am to 2:30 pm starting on Mother's Day, May 13. The regular menu will also be available all day on Mother's Day.
For more information regarding Ben's brunch menu and Ben's Mother's Day catering options, visit www.bensdeli.net.